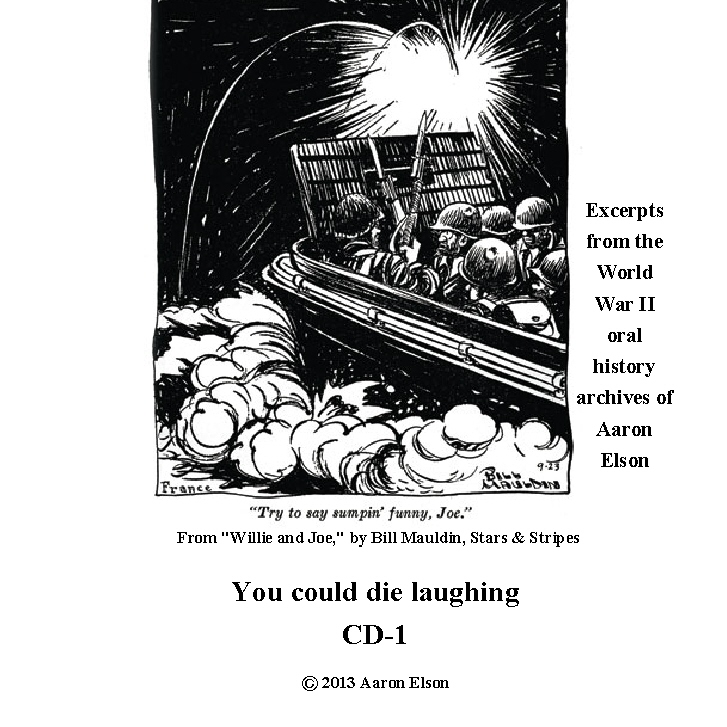 Lately I've been putting together themed compilations of stories taken from my personal archive of some 600 hours of interviews with World War II veterans.
One recurring theme in the interviews is the importance of a sense of humor to the combat soldier. Some things might not seem funny in retrospect, and others withstand the test of time, like the new lieutenant who instructs his company, "Hands on Place, Hips!"
Bill Scheiterle was a young lieutenant in the assault wave on the island of Peleliu. "I don't ever have to worry about going to Hell because I've been there," he said when I interviewed him at the Eldred World War II Museum one Memorial Day. Then he told me an amusing story about one of the most horrific battles of World War II. He told his company that he had a bottle of brandy in his pack and when they got ashore he would break it open and they would all have a drink. However, a shell exploded nearby and as he lay face down on the beach, he heard one of his men shout "The lieutenant's been hit." Then he heard another voice shout "The heck with the lieutenant, get the bottle!"
(Tragically, the bottle of brandy, along with Scheiterle's pack, was demolished, but the lieutenant was patched up on a ship and returned to action the next day.)
Frank Bertram was a 19-year-old navigator when his B-24 was shot down during the ill-fated Kassel Mission bombing raid of Sept. 27, 1944. The Kassel Mission generated one of the great stories of closure to come out of World War II: In 1986 a monument was dedicated in Friedlos, Germany, with the names of all of the American and all of the German fliers (and a handful of civilians) who died in one of the most spectacular aerial battles of World War II. Some 600 people, including American and German survivors of the battle, attended the dedication. Afterward, Bertram was invited to a reunion of veterans of one of the German fighter squadrons that attacked the 445th Bomb Group that fateful day.
The German veterans were boisterous, drank a lot of beer and smoked liked chimneys, and for a gavel, their president used the joystick of a Fokke-Wulf 190. Toward the end of the evening, Bertram asked to see the joystick that was used as a gavel. He turned it over, looked at its underside, and said "Hah, it says "Made in Japan."
After a moment of stunned silence came the remark "Nein! Nein! Deutschland!" before his hosts realized he was making a joke, and burst out in laughter.
These and many other stories, all of which are historical and some of which are hysterical, are included on the new audio double-CD, which is available in my eBay store, along with the many other audiobooks drawn from my oral history interviews.
Mention the blog when you order a copy, and I'll include my other new individual themed CD, "Uphill Both Ways," with stories about the Great Depression. I'll have more about that in my next entry.
Here are some excerpts from "You Could Die Laughing."
mp3 John Zimmer, a veteran of the 712th Tank Battalion, describes a visit to an elementary school.
mp3
Reuben Goldstein, a tank commander in the 712th, has a book autographed by a general. (From "Once Upon a Tank in the Battle of the Bulge")
mp3
Bob Hamant, a Marine who spent a year on the island of Tinian, describes an incident while unloading 90-millimeter shells from an ammunition ship. (From "Four Marines").
mp3
Frank Bertram, a navigator on a B-24 and former prisoner of war, tells of an invitation to a reunion of German fighter pilots. (From "The Kassel Cassettes," which is currently out of circulation while it undergoes some changes).
mp3
Bob Hamant recalls some playful goats on the island of Tinian that liked to pee on sleeping Marines.
NOTE: I produce these audio CDs from my personal oral history archives in small batches with paper labels. Because of this, it's important to keep them from excessive cold or heat, which could cause buckling of the label. It's recommended, if possible, to make a backup copy of each CD. Occasionally the CDs will skip in a car CD player while they play well in computers and regular CD players. I'm working on the problem, but if it should arise will make a full refund or send replacement CDs. Thank you, Aaron Elson